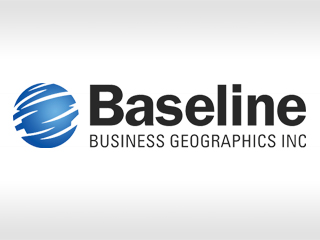 Geo Compliance is a methodology utilized by Baseline Business Geographics Inc. that combines asset management and compliance processes, such as field audits and inspections, with Location Intelligence principles. The policy and standards compliance audit process for distributed assets, such as business sites, business units, properties and retail locations is automated to manage the workflow of field resource and inspection activity scheduling, as well as the results analysis, with the utilization of Geographical Information Systems (GIS) and mobile technology, creating an efficient management system. Organizations with distributed retailer or site networks achieve store-level compliance with operational, sales and security standards to minimize risks and maximize sales.
When we say "Location Intelligence," we're referring to the combination of spatial data (captured via GIS) and business data to gain insight into a specific organization and enhance business operations.
Our solutions use Location Intelligence to analyze relationships within your business data and use maps as visual tools for viewing, communicating and evaluating information.
Baseline has made it easier for our staff to collect information in the field and is saving hours of data entry time when they return to the office. It has vastly improved the efficiency of our staff.

Partners
Since our inception in 1994, we have developed a multi-tiered, multi-channel approach that enables us to provide industry-leading technology for our customers. We developed alliances that allow us to fill the needs of our clients while providing opportunity for our business partners to expand their businesses and achieve greater success.
Baseline Business Geographics Inc. and our partners continue to strengthen the performance of our products, services and solutions so that our clients can realize greater value from our offerings.
Pitney Bowes Software

As a Pitney Bowes Software Partner, Baseline provides the full suite of MapInfo software and data products.
Global GBM
Baseline is an authorized reseller of


Global GBM's GBM software suite of products
and mobile workforce solutions.
Tetrad Computer Applications Inc.

Baseline is an authorized reseller of Tetrad's PCensus software for Demographic and Mapping Analysis.
Environics Analytics

Baseline is an authorized reseller for Environics Analytics.  They offer the most comprehensive set of marketing-related data available in Canada.