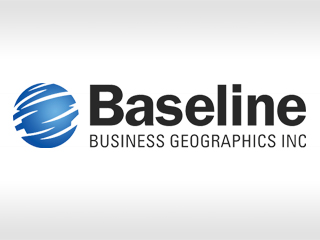 Geo Compliance is a methodology utilized by Baseline Business Geographics Inc. that combines asset management and compliance processes, such as field audits and inspections, with Location Intelligence principles. The policy and standards compliance audit process for distributed assets, such as business sites, business units, properties and retail locations is automated to manage the workflow of field resource and inspection activity scheduling, as well as the results analysis, with the utilization of Geographical Information Systems (GIS) and mobile technology, creating an efficient management system. Organizations with distributed retailer or site networks achieve store-level compliance with operational, sales and security standards to minimize risks and maximize sales.
When we say "Location Intelligence," we're referring to the combination of spatial data (captured via GIS) and business data to gain insight into a specific organization and enhance business operations.
Our solutions use Location Intelligence to analyze relationships within your business data and use maps as visual tools for viewing, communicating and evaluating information.
Baseline has made it easier for our staff to collect information in the field and is saving hours of data entry time when they return to the office. It has vastly improved the efficiency of our staff.

Clients
Our clients range from large, industry leading businesses to startups; and they span many market segments. What all our clients have in common is their desire to understand data, sort it, visualize it and use it to make decisions quickly – without exhausting valuable internal resources.
Baseline takes great pride in the relationships it builds with its customers. Check out our testimonials and see what our other clients have to say. A partial list of our clients includes the following:
Lottery and Gaming
Atlantic Lottery Corporation
UK National Lottery, Camelot
Nova Scotia Gaming Corporation
Government
Industry Canada
Veterans Affairs Canada
Canada Food Inspection Agency
Province of Prince Edward Island
City of Charlottetown
Aquaculture/Agriculture
Coles Mussel Farm
Atlantic Aqua Farm Partnership
NS Crop & Livestock Insurance Commission 
Communications
Bell Aliant
Bell Mobility
Sprint
Marconi Wireless
Nova Communications
EastLink
Other
First Data Corporation
The Chronicle Herald
Loblaws
Coop Atlantic
Confederacy of Mainland Mi'kmaq
Mi'kmaq Confederacy of PEI